Both Cathal & I could easily be considered gear junkies, spending almost as much time buying and researching gear as using the stuff.
After we choose to undertake the belt, we both almost imminently started looking at specific gear for the event. Our aim was to the find the lightest and best quality gear we could. For the actual event, I'm pretty sure we both had the smallest bags (42L and 45L) and had some of the lightest bags. We simply didn't really want to have to carry that much!
The most important thing I would say about packing for the Belt (or any adventure) is to get the balance between carrying what you need and not leaving anything you really need behind. For the whole 10 days on the road the only thing I carried and did not use was a buff. The second most important thing I would say is get into a minimalist mind set. You have to be aware that every gram in your ruck sack  adds up. There is a huge difference between carrying 9kg and 16kg for 10 days…
So what were the main items we had with us? Here is a full list (or so) of all the things we did bring with a bit of detail about each:
Rucksacks: Your ruck sack needs to be large enough to fit everything, but any larger and you'll end up trying to fill space. Pack your rucksack full before leaving and leave some extra space for food and water on the road. We where both happy with 45L bags, althougth most team went for bags a big larger at the 55L mark. A few points about bags. -Use it before hand, one team got horrible cuts because the bag where the wrong size for them. -Use all of your bag, dry bags can be strapped to the outside of your bag. -A breathable mesh between your back and the rucksack can be very worthwhile. -Bring dry bags. Small 5,10,15L dry bags can serve two huge purposes. They max sure your gear is always dry. They also sort and organise your gear. I had a Berghuas Freeflow 35 + 8L while Cathal carried the Patagonia Ascensionist  45L.
Tarp: One of our more controversial decisions, we chose to bring a Tarp (Alpkit Rig 7)in the place of a tent, forever earning us the name "Team Tarp". We chose to do so as it would work out lighter overall for us for less money and would add a little extra element of adventure, although you'll probably say we were mad. Maybe we were, but we got on fine with using our tarp and found it to be a pretty pleasant experience. The weather was pretty dry during the night we spent under it so maybe a lot of rain would have us saying else wise now but for mainland Europe in the same, it seemed to work out very well. Overall we would recommend the tarp to any future teams, however spend as much time as you can using it before hand in Ireland to really learn about it.
Walking Poles x2: We carried a set of Karrimor X-Lite Carbon poles to use to pitch the tarp and we also used them for walking once we realised (On day four) that we could do that too!
Cord: For the guylines we used cord also from Alpkit.
Pegs
Survival Bag Groundsheets x2: Since the tarp had no groundsheet, we each got a survival bag and cut it in half (so we only have one layer needed) for our groundsheets.
Breathable Bivvy Bag: I decided to buy and bring a breathable bivvy bag (Alpkit Hunka) to be a bit warmer and maybe a bit dryer it was needed. Cathal decided not to bring one and was fine as well.
Sleeping Mats: Rather than bringing standard foam mats, we both looked into better alternatives. I brought a Thermarest Prolite Plus (3/4 Length) that I borrowed from a friend and Cathal bought and brought a Thermarest Neo-Air X-Lite (Regular length) for the trip. Both were warm and comfortable and definitely worth it for a better nights sleep.
Sleeping Bags: We both brought the same sleeping bag – A Gelert Xtreme Lite 800 – simply because it was a 2 season bag that was warm enough for use in european summer and was light and didn't cost too much either! We were never cold for the whole 10 days on the road.
Mosquito Net: Cathal brought a single sized mosquito net – A Sea to Summit Nano – which was tiny when packed up but also not very big when opened. We didn't really use it that much in the end as the mosquito's very not very widespread.
Mosquito Head Net: I decided to bring a head net instead – A Lifesystems one that comes as a hat with a net attached. I used this more as hat for the same reason as above.
Multifuel Stove and Fuel Bottle: Different teams go for very different approaches here. We went for a multi fuel stove – A primus OmniFuel. The major advantage is a multi fuel stove can be powered by normal car petrol. This means that we where always going somewhere to get fuel on the first day. It's also hotter than a trangia and about the same as a gas stove so is quick to cook things.
Pots & Pan: We brought two small pots and a single pan for cooking with.
Cutlery: I brought a fork and Cathal brought a spork for the trip. We both then had penknives for cutting so didn't need anything else. Cathal also brought a fold up bowl (from Orikaso) and then I ate from the pot.
Washing Powder Liquid & Dry Bag: We brought some Persil liquid in a small liquid bottle (a travel one from Boots) and then washed our clothes in a dry bag by mixing it around inside.
Washing Up Stuff – Washing Up Liquid, Steel Scrubber and J-cloth
Small bottle of Oil
Sugar/Salt/Pepper/Spices/Herbs
Solar Powered Phone Charger: We borrowed this in order to try and charge our phones along the way but it didn't work very well as the sun didn't shine directly on us all the time.
Personal First Aid Kits: Very minimalistic, plasters and painkillers. Blister pads, (Compeed, both recommend to us and very very effective)
Suncream / Insect Repellant
Small Amount of Toiletries
Earphones
Camera & Case
Compass
Log Book and Project Books
Head torch (Check out Alpkit)
And then we each our clothes:
Shorts / Trousers: We both went for one pair of shorts and one pair of long pants. Our originally plans to have two pairs of shorts each were quickly changed when we got the weather and found how cold it was in Germany. I won't recommend the need for any more then two pairs of pants each.
Shirts / T-Shirts: We each brought one tech top and one light shirt each. The shirt was good for when we knocked on door, helping us look clean and friendly.
Socks / Underwear: It was suggested to us that we would buy synthetic underwear to prevent chaffing. Synthetic underwear sucks away moisture between the legs which can cause some terrible chaffing. However a single pair can cost up to 30 euro, I picked up a pack of four in pennies for 3 euro and they worked perfectly. Cathal found it fine with a normal pair. We each took two pairs of synthetic walking socks. Two pairs is enough and synthetics dry faster then cotton.
Shoes: Shoes where literally our achilles heel. We both went for shoes that were made for trail walking, good strong shoes that would support us. By the end of the 10 days Cathal's feet where in such a bad state he could just about walk into base camp, mine not so bad. The problem we discovered was that both our shoes where Gore Tex. Making them ideally for rainy locations, not for heat. They where horribly unbreathable which is why we both got so many blisters. My advice on this topic would be to go for breathable runners not specific trail running or walking shoes. If you had time to train in a pair of sandals that might also work. At the end of the day, the most important thing is to train the shoes in.
Waterproof Jacket: We both had a light rain jacket, only used once but could have been very important in bad weather.
Hat
Sunglasses
Fleece (Primaloft): We each had a lightweight fleece, handy for when the nights turns cold.
Here are some photos of some of the different setups we used with the tarp on our trip: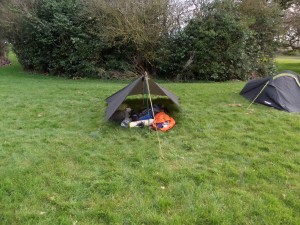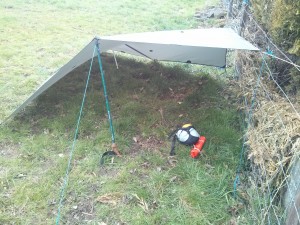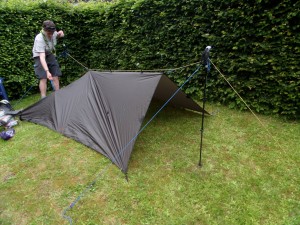 Here is also a bit of chart with a rough breakdown of how much it all weighed: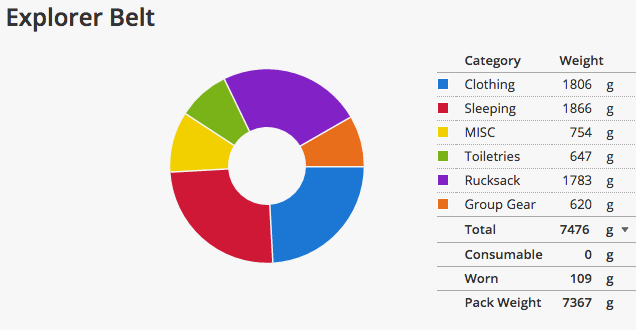 That should all give a good outline of the things we brought, it's hard to cover every detail but if you do have any questions, please feel free to give us a shout and we can answer them for you!